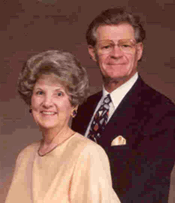 J. Don Jennings was born into a pastor's home. His father ministered for over 50 years. J. Don has been in the ministry over 55 years, serving in various capacities.
Ministries:
Pastor for 30 years in Virginia, Tennessee, Michigan, Indiana, and California.
International Director of Enrichment, Assoc. of Baptists for World Evangelism, Harrisburg, PA.
President Northwest Baptist Seminary, Tacoma, WA.
President Tennessee Temple University & Seminary, Chattanooga, TN. and Pastor of the Highland Park Baptist Church, Chattanooga, TN.
Representative and Consultant for Baptist Network Northwest in Idaho. Oregon, Washington & Western Montana
Executive Director of Northwest Baptist Home Mission.
Senior Pastor of First Baptist Church, Menifee, CA.
Currently in Bible Conference ministry. He and wife Doris have carried on an extensive Bible Conference ministry in almost every state in the USA and in over 50 foreign Countries. He serves or has served on the boards of many Christian organizations.
Don and Doris have two sons in the Gospel ministry. Michael is Pastor of 1st Baptist Church, Tumwater (Olympia) WA and Don II is Pastor of Harbour Shores Church, Noblesville, Indiana. Grandson, Don III, is Asst. Pastor, Bethesda Baptist Church, Brownsburg, IN.
Dr. "J", as his friends call him, is author of several works including: "The Church And The Bible", "The Battle For The Body," "A Biblical Blueprint For Evangelism," and his latest book, "Life's Greatest Adventure."